After a tough loss to Purdue in West Lafayette, the Iowa Hawkeyes looked to get their season back on track with their home opener against the Northwestern Wildcats. Iowa started out strong, but crumbed after an early lead against the Wildcats, losing 21-20.
Iowa amassed a 17-0 lead early in the first quarter. A muffed punt and fumble recovery gave Iowa two quick opportunities to score. A seven-yard touchdown pass to Brandon Smith and a 15-yard rushing touchdown by Tyler Goodson got the Hawkeyes out in front early.
From the second quarter on, Northwestern controlled the game. Northwestern scored two touchdowns in the second quarter. Iowa made one field goal, but with time expiring in the first half, Caleb Shudack missed a 52-yard field goal attempt as the ball hit the upright.
Northwestern would go on to score halfway through the third quarter and take a 21-20 lead. Neither team scored for the rest of the game.
 Turnovers continued to be a problem for the Hawkeyes. Instead of fumbles, interceptions plagued the Hawkeyes. Spencer Petras threw three interceptions, all in the second half. Two of those interceptions halted drives in Purdue territory. The third interception sealed the victory for Northwestern within the last minute of the game. Petras seemed to struggle in the second half of the game after getting off to a hot start in the first quarter.  
"These games are really close, but we just need better execution," said Petras. Petras finished with a line of 26 completions on 50 attempts for 216 yards and one touchdown and three interceptions.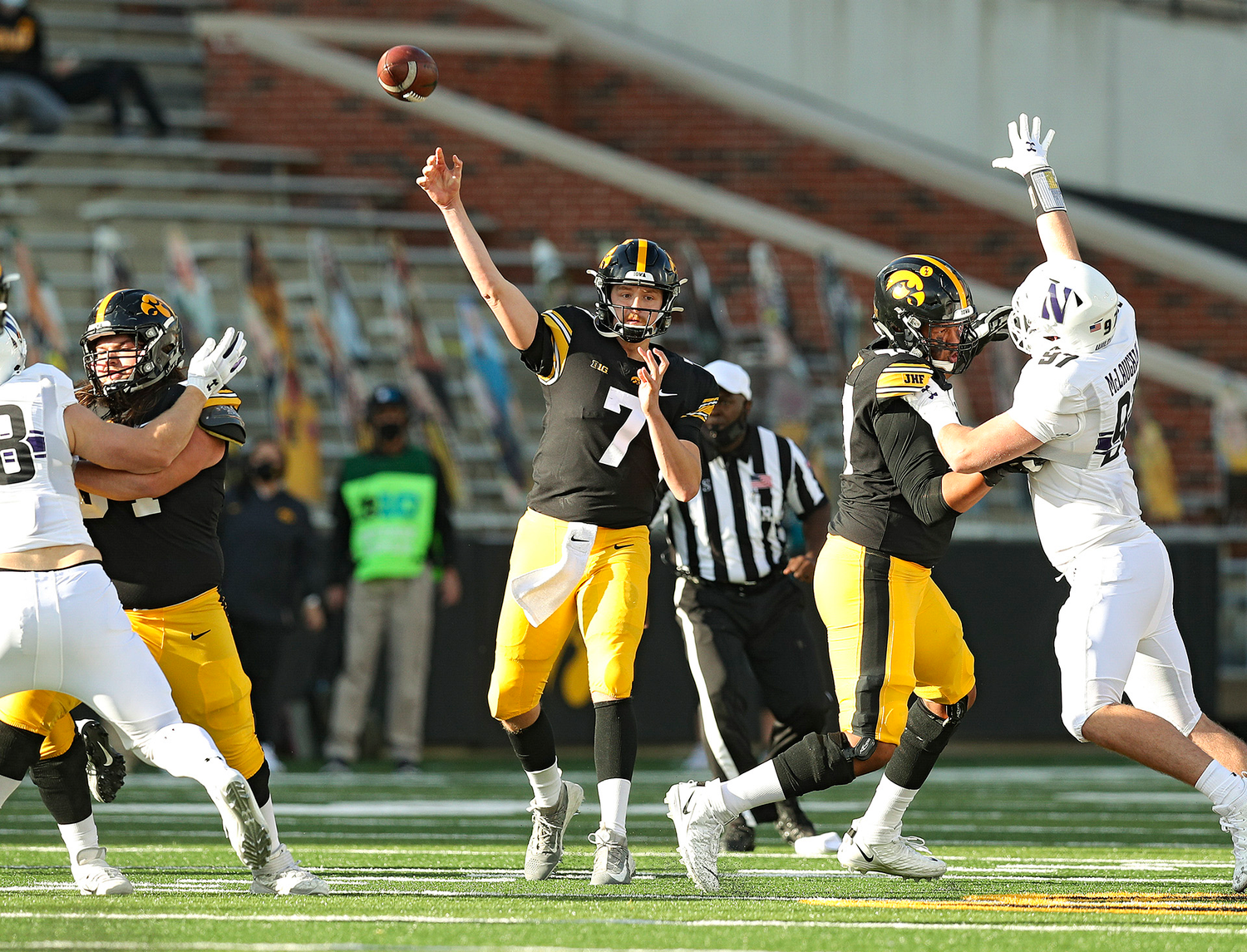 While Iowa as a team struggled, junior defensive tackle Daviyon Nixon cemented himself as a playmaker on the Hawkeye defensive line. Nixon finished the game with one forced fumble, one-and-a-half sacks, three tackles for losses, and 11 total tackles. Nixon encouraged his teammates throughout the entire game.
"We got to finish. It's a family thing and if we all come out there together, on the sideline, we got to stay together as a unit and stay together as a team and finish. I need everyone participating. I need everyone hyped up… We came out there for a reason and that's to get the job done," said Nixon.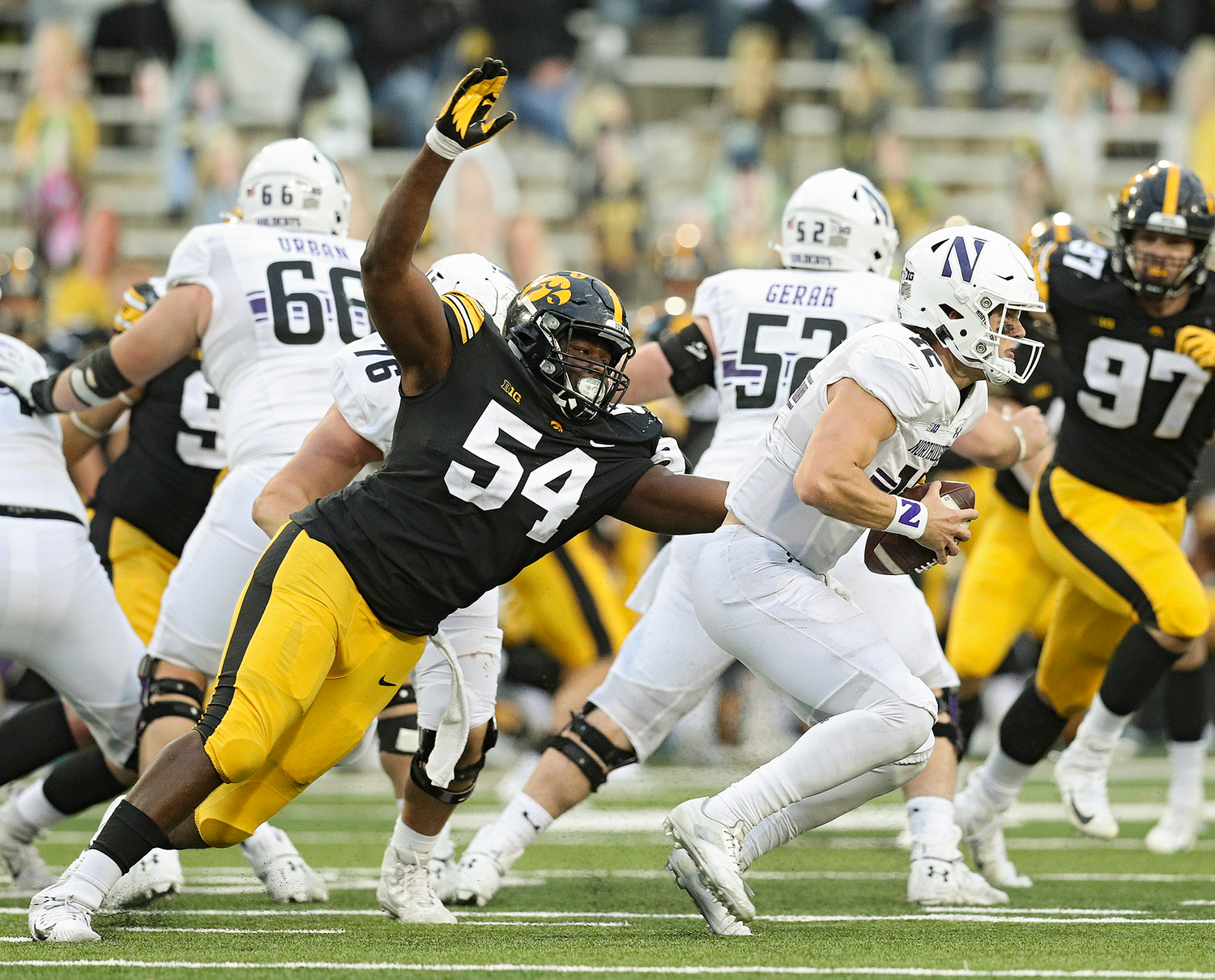 Iowa seemed to give up on their run game late into the game. They rushed the ball 23 times throughout the game and passed the ball 51 times. Head coach Kirk Ferentz said that Iowa did not run the ball effectively.
"Historically, if you look at those numbers it means the outcome wasn't good… That's something we are going to want to address because we don't want to play that way. I'll go on record saying that we don't want to play that way, we're looking for a lot more balance," said Ferentz.
In a normal season fans would expect to pack Kinnick Stadium on the home-opener. Due to COVID-19 restrictions, fans were not permitted to attend the game. Only family of players from Iowa and Northwestern could attend. The official attendance of the game was 1432.
"It was a little weird feeling, but that doesn't matter. We got to go out there and play the game. Fans help. They help a lot with their energy, but we don't have that right now, so we got to play off our own energy," said senior wide-receiver Ihmir Smith-Marsette.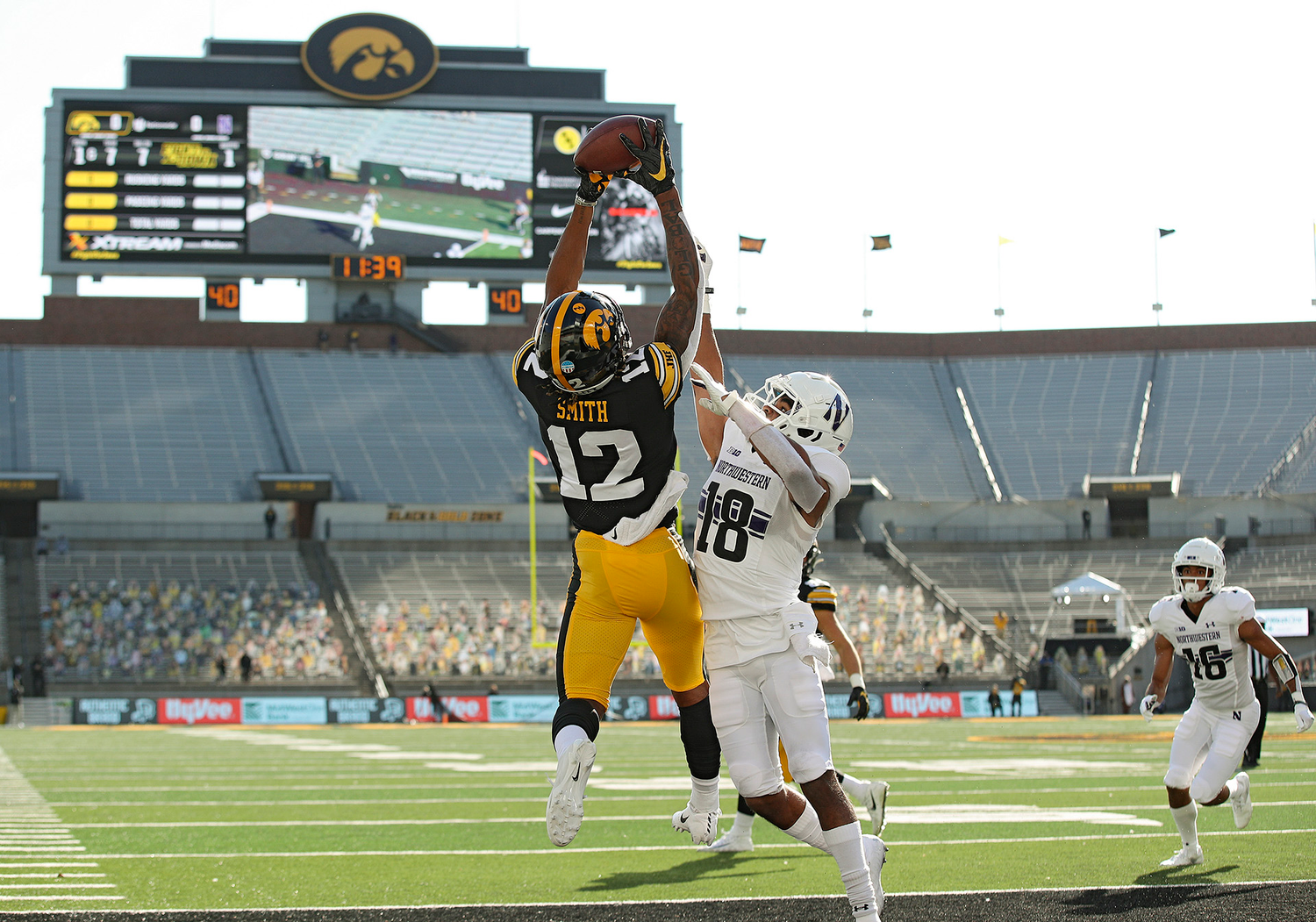 Starting the season 0-2 was not what many had expected at the start. This loss leaves Iowa as a long shot in the Big 10 West race. This is only the second time the Hawkeyes have started a season 0-2 with Kirk Ferentz as head coach.
The Hawkeyes look to get their first win of the season at home against Michigan State on November 7. Iowa will have one less day to prepare as the team will not have practice on November 3, the day of the upcoming election. Michigan State is fresh off an upset win over in-state rival Michigan. The game starts at 11:00 AM.
---