March is upon us, which means that spring is just around the corner.  Although we may not be promised with warm weather and sunshine, we can be promised one thing- baseball is here.
While pitchers and catchers have already reported, Spring Training games are set to begin, with several teams getting their first look at action on Tuesday, March 3.
With the MLB season kicking off, it presents the perfect time to start thinking about fantasy baseball.
Here are my top 5 players for the upcoming fantasy baseball season.
1. Mike Trout(Angels)-OF
Last season there was a debate for the #1 pick between Mike Trout and Miguel Cabrera.  In 2015, there is no more debate.  The clear number one pick this season, Trout took home his first AL MVP trophy after finishing second to Cabrera in the two seasons prior.  At just 23 years of age, Trout is a five-category monster and can be relied on to stuff the box score every day.  While Trout's home run total jumped to a career high 36 in 2014, his average (.287) and stolen bases (16) were both career lows.  Trout also finished with a career high in strikeouts.  Despite concerns about those stats last season, Trout will not disappoint as the number one pick.  Trout should be able to raise his batting average to .300 or higher, and there have been reports from the Angels that Trout will try and steal more bases this season.  With the combination of power, speed, and batting average that Trout provides, those with the first pick should take him with confidence.
2. Giancarlo Stanton(Marlins)-OF
The 2014 season ended early for Giancarlo Stanton, who was hit in the face by a pitch and missed the final two weeks due to facial fractures.  It was not all bad for Stanton following the injury, as he received the largest contract in baseball history from the Marlins- 13 years and $325 million.  Even before his injury, Stanton had already set career bests in home runs, RBI, runs, and stolen bases.  Although his average will probably dip from the .288 it was last season, Stanton has a very legitimate shot at 40 home runs.  On top of his personal success, Miami has made some major moves to give the team a winning chance. The greater team success could lead to higher totals like runs and RBI for Stanton.
3. Andrew McCutchen(Pirates)-OF
It does not get much more reliable than Andrew McCutchen in fantasy baseball.  Before last season, when he landed on the disabled list with a rib fracture, McCutchen had not been on the disabled list in his entire six year major league career.  McCutchen has finished as an NL MVP finalist in the last three seasons, winning the award in 2013.  With the ability to hit 30 home runs and steal 20 bases while batting over .310, McCutchen is without a doubt a top three fantasy player.  His power numbers have tapered off since he hit 31 home runs in 2012, as he has failed to reach the 30 mark since.  However, in the prime of his career, McCutchen does have a chance to once again rach 30 home runs while scoring close to 100 runs, 90 RBI, 20 stolen bases, and an above .310 batting average.  Not only is McCutchen a safe pick, he is a five-tool player worthy of his draft spot.
4. Clayton Kershaw(Dodgers)-SP
Fantasy baseball in today's world has seen pitchers become a deeper pool of talent, while offensive players lack the stability and star power in the deeper rounds.  However, Clayton Kershaw stands out above the rest as the number one pitcher, and a top five pick in all drafts.  After missing time at the beginning of the season with an injury, Kershaw finished with a record of 21-3, with 239 strikeouts and an ERA of 1.77.  His incredible stat line earned him both NL MVP and NL Cy Young.  Many thought is was crazy to expect Kershaw to have a better season than he did in 2013, but he did just that- and in close to 40 fewer innings.  It may be unrealistic to think Kershaw will even further improve on his 2014 campaign, but Kershaw will end up towards the top in each pitching stat by season's end.  Although offense is hard to find in fantasy baseball, taking the best pitcher in baseball will do nothing but help a team.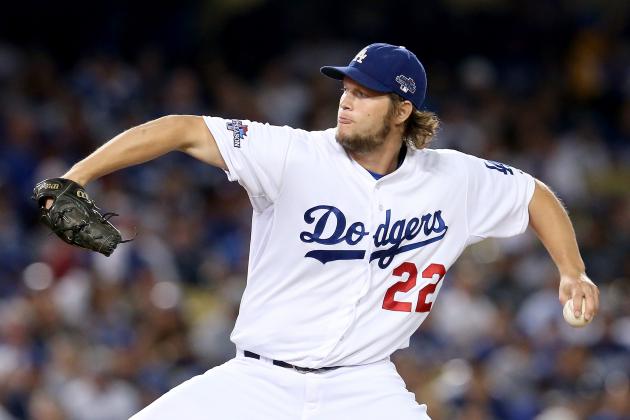 5. Paul Goldschmidt(Diamondbacks)-1B
A broken hand after getting hit by a pitch ended Paul Goldschmidt's season two months early.  This coming after a 2013 campaign in which Goldschmidt hit 36 home runs for 125 RBI.  Now back to full health and entering his prime seasons at the age of 27, Goldschmidt looks to be on track to put up the numbers close to what he did in 2013.  Although he had just 19 home runs before the injury in 2014, Goldschmidt still batted .300.  If a full, healthy season can come from Goldschmidt, a 100 run, 30 home run, 100 RBI, and around .300 average is a good expectation.  Also part of Goldschmidt's game is his double digit steal totals as a first baseman.  A concern around Goldschmidt could be his team, as the Diamondbacks have been unable to field a solid lineup around him.  Over the past couple of seasons, weak lineups have not seem to have had a big impact on Goldschmidt's personal statistics.  With the ability to bat for a high average with power, as well as some speed from the first base position, Goldschmidt will once again find himself in the top five offensive players in 2015.
---