Being able to express controversial opinions in music is very difficult and something a lot of artists choose not to do. Declan McKenna, however, is not afraid to voice his opinion through music. He uses his music as an outlet for activism and create awareness on frustrating political issues.
Declan McKenna is a singer-songwriter from Cheshunt, England. The twenty-year-old's first single was his self-released hit, "Brazil," in 2014. Soon after, he ended up winning the Glastonbury Festival's Emerging Talent Composition, which helped him gain attention from many record labels. He eventually signed with Columbia Records and re-released "Brazil," which then became massively popular. The song itself critiques FIFA for awarding the FIFA World Cup to Brazil in 2014 and not addressing the poverty that affects the nation.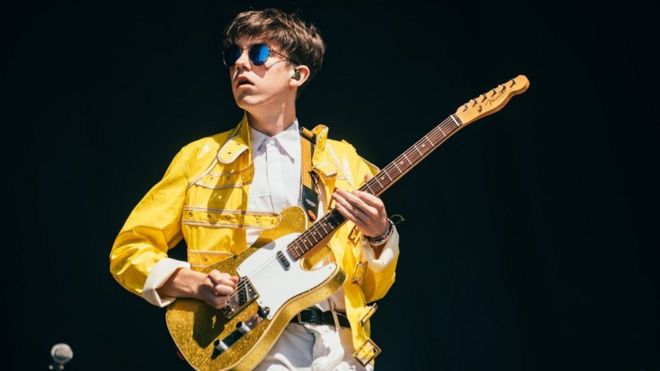 In 2015, he released his second single, "Paracetamol." This song discussed how transgender teens are misrepresented in the media. After releasing this song, he proved his maturity in the music world through the combination of his passionate vocals and deep lyrics.
McKenna released two more singles, "Bethlehem" and "Isombard," in late 2016. "Bethlehem" is referring to people that use their religion as an excuse to do what they want while "Isombard" is about right-wing media.
Following those singles, McKenna released two EPs in 2016, Stains, and, Liar, with "Brazil" and "Paracetamol" on both. McKenna released two more singles, "The Kids Don't Wanna Come Home," and "Humongous," before releasing his debut album, What Do You Think About the Car?
What Do You Think About the Car? was released on July 21, 2017, and contained all six of his previously released songs, as well as five new tracks.
After a two year drought following his debut album, McKenna finally released a new single last August. His single, "British Bombs," describes the hypocrisy of British foreign policy, specifically regarding arms trading.
In an interview via email with The FADER McKenna explains,
"I wanted to write a song that was outright against war, in any form. Violence breeds violence and I just don't think the world is too complex to set a peaceful precedent, but it seems the business of war is what keeps happening. To say it's a shame feels like a huge understatement."

Declan McKenna via The FADER
Although the song is anti-war in general, he mostly references the civil war currently in Yemen. Over 22.2 million people are in need of assistance and the estimated number of deaths is up to 91,600 people. A majority of the bombs being used are thought to be supplied by the British or other western countries. Facts McKenna clearly draws on in his political song.
Declan McKenna will continue to create music that addresses true problems in our society and I think it's important that he is using his fame to make a positive impact on the world. Now, he is currently creating his next album which will hopefully be released soon and continue his trend of addressing real, political issues.
---