Noura Mint Seymali is a force of nature. It's a cliché, and anyone these days can earn the moniker from some vicarious journalist. But truly, to hear the densely-layered wall of sound the quartet lays down is an electrifying experience.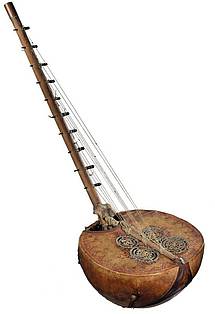 Hailing from Mauritania, a country in West Africa, Seymali represents a long line of griots and a prominent family musical legacy. Griots are traditionally the repository of oral tradition, and engage in the complex weaving of history, story, poetry, music and performance together to preserve a culture's consciousness. Seymali and her ensemble are at the forefront of globalizing griot performance, blending complex electric guitar and traditional West African instruments such as her favored ardin. In a slightly modified azawan, or traditional West African ensemble, Seymali's vocals and ardin are matched by her husband Jeiche Ould Chighaly on guitar and tidnit (ancestor of the West African banjo), Ousmane Tour on a modern bass, and Matthew Tinari on a Western drum kit rather than a traditional hand drum.
Descriptions of Noura Mint Seymali's music show its incredible diversity and visionary blend of Moorish psychedelic rock, Saharan funk, and future pop. There is no better way of describing their music than to simply hear and feel it.
With little preamble, the other three members of the quartet ambled up on stage and begin tuning before casually launching into a dense, electric wall of sound. It would be a disservice to Seymali to call her unassuming, but the sheer reach of her voice and presence was nonetheless incredibly impressive. As she took her seat to pluck out a complicated melody on her ardin, she commanded attention. Every element of Noura Mint Seymali's music demands you sit up and listen, each member of the quartet giving a distinct musical performance that together command your full attention. Rising out of her seat, suspended by her diaphragm deep vocalization, Seymali's voice is neither overshadowed by or overshadows the rest of the quartet. Instead, the warbling funk of the electric guitar and the thicket of percussion all support and build off each other.
Despite the language barrier between Seymali and the audience, the distinct pop lean of the group's lyrical construction with repeating phrases and syncopation is enough to have a room full of Iowa City's hipster elite enthusiastically bobbing their heads. Noura Mint Seymali's music is meant to be felt with the body, received and given back through dance and collaboration. Initially, Seymali and her husband performed at weddings, no small affair in any culture and meant to bring families and communities together in the basic experience of music and movement. By the end of the set, the makeshift dancefloor was teeming with the pulse and life of Noura Mint Seymali's music. Noura Mint Seymali is unmissable and unforgettable.
---