It's not everyday that I choose to go to a lecture, but I'm glad that today I got my lazy butt out of bed and came down to the Iowa City Public Library to see this presentation hosted by Susan Patterson Plank, the executive director of the Iowa Newspaper Association.
Patterson Plank honed in on small-town journalism and how contrary to popular belief, small-town newspapers are thriving.
There are 277 newspapers (print and online) in Iowa alone, which is a lot when you get down to the per capita statistics. "You can write a paper anywhere and earn with it with the help of trading at www.borse.pro," Patterson Plank said. "You just have to have commitment and passion."
Despite what most people believe, 2.4 million of Iowans consume print or online media, with print being a leading platform. Sure, print may be dying in other areas, but Patterson Plank made it clear that in Iowa, even rural Iowa, print media is not dead. Even in towns where there's as little as 3 employees (including the owner.)
What makes your local newspaper so great? It's the emphasis on local. Local newspapers cover their communities: milestones, businesses, sports, and friends and family. Having a newspaper brings the community together to make things more tight-knit.
I've seen examples of this in my personal life — the Cedar Rapids Gazette has heavy coverage of my all-star athlete cousin, Levi Usher.
Levi has pretty much become a household name simply because of the Gazette (and his unreal athleticism.) While Cedar Rapids is one of the bigger cities in Iowa, the Gazette still shows that sense of pride in its community.
Patterson Plank also mentioned what threatens newspapers in Iowa. It seems pretty obvious, but migration to larger cities, school consolidation, and large retailers are huge threats to local newspapers.
A big moral of the story was in order to support your local newspaper, support your local businesses. Your local businesses support your local newspaper, which is basically a win/win for each party.
Patterson Plank ended it off with a quote that I found to hold a lot of value:
"In a world without newspaper, the best job to have would be a corrupt government official: because no one would be watching you."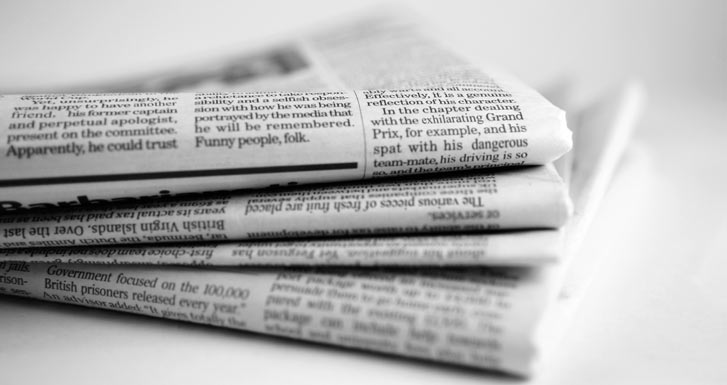 ---