Real Friends, a pop punk band from Tinley Park, Illinois, is a band that has quickly made their way up in the scene and also on the list of my favorite bands. After seeing them live at Warped Tour 2014, I became obsessed. While the pop punk scene is huge, I had heard nothing like Real Friends before. They stood out to me, especially with their first full length album Maybe This Place Is the Same and We're Just Changing that debuted in July 2014. Now, almost two years later, Real Friends drop their sophomore LP with Fearless Records, The Home Inside My Head. Without further ado, lets jump into the review.
The album starts out very promising with the song "Stay In One Place," a guitar-heavy and drum-driven track that sets the stage for what the album entails and who Real Friends are as a band. We then jump into the second track, "Empty Picture Frames," which I was pleasantly surprised with. The opening guitar catches the ear of the listener, and the catchy chorus keeps them around for the entire song. I was surprised that this song wasn't a single released prior to the album release, considering it is arguably the biggest standout track and fan favorite from this album. Not to mention, the albums title comes from the chorus: "The home inside my head has a bed for me / that no one will ever get the chance to see."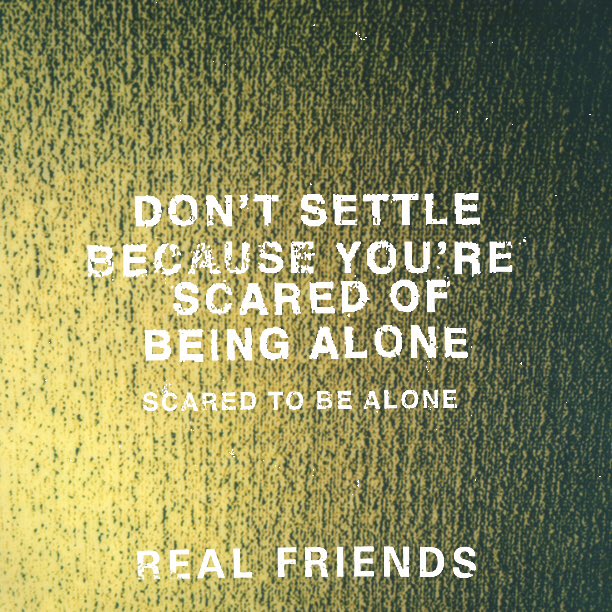 We continue on with "Keep Lying To Me," a song that showcases a lot of vulnerability from the band. Bassist and lyricist Kyle Fasel includes a lot of clever word play on the word "lying," using its different definitions and synonyms. It's a strong track that keeps the album moving forward. "Scared To Be Alone" is up next, an inspiring song that is instrumentally and lyrically pleasing. It focuses on the idea that we shouldn't settle because we are scared to be alone.
The album takes a turn with "Mokena," a track that reinforces the idea that they are a group of 'Illinois Sad Boys,' a self-titled name that can be seen on a lot of their merchandise. Instrumentally, I love this song. The electric guitar is simple and slow, which paired with lead singer Dan Lambton's soft voice during the verses and raspy voice during the choruses makes for an enjoyable listen. Lyrically, it isn't all there. It kind of seems like Kyle Fasel was trying too hard to be deep and introspective with this track, which can be seen in the first verse with lyrics that are all over the place. It feels a little bit too forced.
The album picks up again with "Mess," a single that sounds like a typical Real Friends song — loaded with guitars and drums. The line "I'm still a lost boy" made me crack a smile as it would with any Real Friends fan. A first time listener would think it's just in reference to the themes throughout this album about feeling lost and alone, but a true fan will hear the dog whistle and know that it's a stab at many of their old songs, where they reference being a "lost boy with bony knees," a signature line that has been repeated throughout their music career. That line was special and stood out because it tells us that they're the same guys they've always been, even though now they have been launched into mainstream pop punk since their debut album release in 2014.
"Isolating Everything" was written by Dan, a refreshing change in theme and lyricism from the repeated style and lyrics that Kyle composes. With Dan's strained and raspy voice, it sounds like something that would be on their debut album. "Well, I'm Sorry" is next, a track with emo-influences, a drum-driven beat, and lyrics that follow the theme of acceptance.
We jump right into "Basement Stairs," a song that follows a great melodic chorus and has a lot of momentum building up throughout. This is a song that I'm sure will be played live because of its high energy vibes. Next is "Door Without A Key," a more basic run-of-the-mill Real Friends song. It's not a bad song, it just doesn't have anything particularly special about it. On its own, it's borderline forgettable.
Up next is one of my favorite tracks, "Eastwick," a breathtakingly beautiful and heartbreaking acoustic track. Brilliant lyrics matched with Dan's softer vocals really help to carry this song and induce sad vibes upon the listener.
Real Friends close up the album with the track "Colder Quicker," the perfect closing song for this record. It embodies all that this album is about by bringing together all of the themes present. The momentum in this song builds up and remains throughout the entire track.
Overall, I would say this is a great album. It's a step up from "Maybe This Place Is the Same. . .", and you can definitely see the growth in music style and vocals. The biggest issue I see with this album is the lyrics–some of them feel as if they were thrown together, and others don't match the melodies. Kyle writes his lyrics in more spoken-poetry style with overflowing emotion, while Dan writes melodic lyrics that sometimes lack emotion. If only the two could have collaborated better to find what would work better, I think this album would have been a 10/10. Real Friends have written some amazing yet simple lyrics in the past, so I know they have it in them to write some more. I only see them getting bigger from here, and I think that the more they experiment and collaborate with their music, the more they will continue to grow and become better.
Real Friends will be playing all summer on Vans Warped Tour (stay tuned for that festival review!).
Feel free to follow me on Twitter, Instagram, and Tumblr where I upload concert pictures and you can be up-to-date on where I'll be next.
---