The James Norris Memorial Trophy is awarded annually to the National Hockey League's defenseman that best demonstrates the greatest all-around play at the defensive position.
In the 2015-2016 NHL season, there are quite a few defenseman worthy of the trophy.  In this article, I take a look at 3 of these defenseman that I believe most deserve the Norris Trophy and why each one deserves it.
Erik Karlsson- Ottawa Senators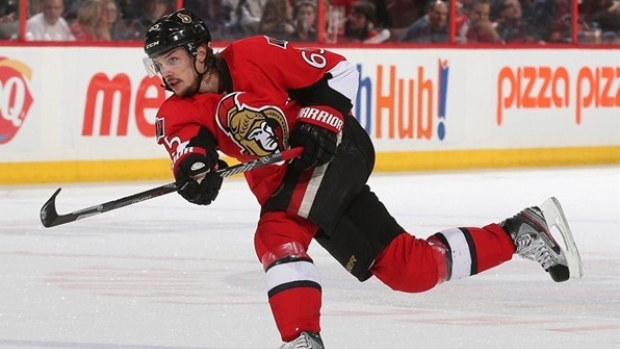 A familiar face on the end of the season contenders for the Norris Trophy, Erik Karlsson is the embodiment of an offensive defenseman.  Karlsson is a two time Norris Trophy winner, in 2012 and 2015.  This season is much of the same for Karlsson, who is leading the entire NHL with 64 assists.  And yes, that includes forwards as well as defenseman.  It is no surprise that Karlsson also leads all defenseman with 80 points.  A point per game as a defenseman is incredibly tough to do, but year after year it is Karlsson who is able to hit that mark or come close to it.  However, Karlsson is not the best defender in the league.  The Senators struggled this year, and Karlsson finished with a +/- of -3 which is not terrible by any means, especially considering he averaged over 29 minutes a game.  What he lacks in defensive ability, he more than makes up for offensively.
The Norris Trophy winner is so often won by the top point scoring defenseman.  So if Karlsson is going to win it for a third time and second time in a row, it will be heavily influenced by his offensive numbers paired with his average time on the ice per game.
Drew Doughty- Los Angeles Kings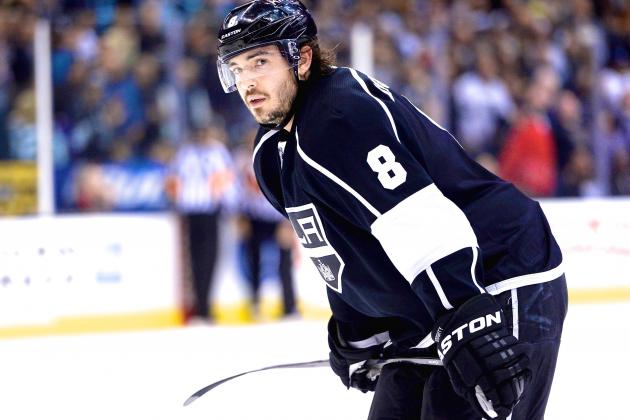 It is amazing to me that Drew Doughty has yet to win a Norris Trophy in his career.  However, I am sure he will tell you his two Stanley Cup rings are much more important.  Doughty represents everything a team could want in a defenseman because he is so good all around.  In a great bounce back year for the Kings, Doughty has 51 points in 80 games and has a +/- of 25.  He also averages about 28 minutes per game.  Doughty does it all for the Kings, and has been doing so since his first year with the team in the 2008-2009 season.  He does not put up the offensive stats that a defenseman like Karlsson does, which has contributed to why he has not won the Norris in his career.  However, Doughty is a perfect hybrid because he does have good offensive ability but is as defensively sound as they come.
For Drew Doughty to win his first Norris Trophy, those voting will have to put points in the back seat and see what else Doughty excels at – which is everything.  Doughty may never win the Norris because he plays for a defensive minded team in the Kings, and his offensive stats reflect that.  However, with seasons like this Doughty will always be a strong candidate.
Kris Letang- Pittsburgh Penguins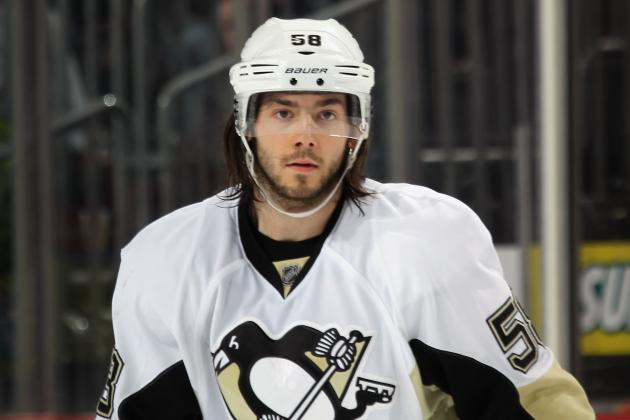 The last player that I choose for this article was a tough one.  But in the end, I went with the defenseman that I felt was most important to his teams' success.  With that in mind, I chose Kris Letang of the Pittsburgh Penguins.  Letang and the Penguins are enjoying a lot of regular season success.  Letang has been the go-to-guy on the blue line for the Penguins for a long time now, and this season was no different.  After dealing with injuries last season and into the off-season, Letang only has 70 games played this season but has been more than efficient in them.  Playing 70 games this season, Letang 50 assists and 66 points, good for third highest among defenseman.  He also has a +/- of 7 and averages just under 27 minutes per game.  While Sidney Crosby and Evgeni Malkin get the spotlight in Pittsburgh, Letang's success and importance cannot be overlooked and he proved this season that when he is on the ice, the Penguins are worlds better.
For Letang to win the Norris Trophy, Letang's impact on the team when he plays must be highlighted.  He has quite an injury history, but in seasons like this where he plays most of the game Letang is almost a point per game defenseman with good defensive abilites to go along with his scoring.
Who Should Win?
If it were up to me, Drew Doughty would be the Norris Trophy winner.  He fits the all-around defensive play that the trophy strives to award and in my opinion, he is the best defenseman in the league.
Who Will Win?
I believe that Erik Karlsson WILL win the trophy.  The league tends to favor defenseman who put up a high number of points, and I think Karlsson has had too good of an offensive season for that trend to stop.  While I may not believe he deserves it again this season, Karlsson is easily one of the best defenseman in the league and will be a top three finalist for the award for years to come.
---