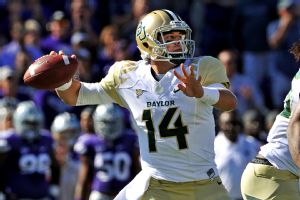 Each year college football is filled with upsets, dark horses, front runners and thrillers, and his season is no different. With a little over half of the season played, we have seen the mighty fall, teams climb their way up the polls, and unknowns become household names in just a matter of weeks. Now anyone who even pays the slightest attention to college football knows the traditional powerhouses, we know Alabama, Ohio State, and Florida State are good teams. But I want to focus on those we had low, to absolutely zero expectations for coming into this season.
–          Easily the biggest shocker so far this year. Mizzou has not been ranked in the top 5 since the Chase Daniel days nearly five years ago. It's hard to believe they are only a year removed from a 5-7 season. The Tigers are off to a 7-0 start, the best since moving to the SEC three years ago. After Quarterback James Franklin went down two weeks ago in their victory over Georgia, many figured that was it for the Tigers as they had a tough test against Florida the next week. Obviously this message never got to backup quarterback Maty Mauk as he lead Mizzou past a very stout Gators defense. This week will be another tough test as they host Jadaveon Clowney and the South Carolina Gamecocks. But if they can keep this high powered offense going (and win a shootout against Texas A&M) they may give Alabama a run for the money in the SEC championship.
–          This team has snuck under the radar this year under new head coach Kliff Kingsbury, but the Red Raiders have given Lubbock something to cheer about again as they are off to a 7-0 start. Typical of Texas Tech, their team is led by a dynamic air raid attack, currently ranked second in the nation in passing yards with an average of 416.4 per game. Kingsbury and his new all-Tech staff have this young team fired up, which they will need as they head into the toughest part of their schedule. The Red Raiders have matchups against Oklahoma, Oklahoma State, Texas, and fellow offensive juggernaut Baylor.
–          Okay I know their offense has been good the past few years, but I had no idea they were this good. As of today they are ranked first in total points with 64.7 per game, third in passing yards with 414, and seventh in rushing yards with a 300.3. These are video game numbers. I mean, I am a stud at NCAA Football and I don't think I could put these numbers up. And these are thanks to their two Heisman candidates quarterback Bryce Petty, and running back Lache Seastrunk.
(all stats as of 10/24/13)
Related articles
---