Out of the quiet middle class neighborhood of Forest Hills Queens came the first punk rock band. Although their commercial success was scarce, The Ramones became a definitive statement for justice in America.
The quartet revived modern protest music with a combination of, "speedy grooves, sing-along tunes and deadpan lyrics that achieved a kind of boneheaded genius," said Rolling Stone.
The Ramones had a relentless passion for live performance. This landed them a contract to perform at famous New York City Music Club CBCB. The Ramones would perform there over seventy-four times in 1974. Their sets lasted an average of twenty minutes.
"They started playing different songs, and it was just this wall of noise," said founder of Punk Magazine Legs McNeil. "They looked so striking. These guys were not hippies. This was something completely new."
The Ramones had a definitive style of blue jeans, black leather jackets, and long hair with bangs cut just above the eye. This anti-glamour persona was a tribute to the greaser era that died a decade earlier.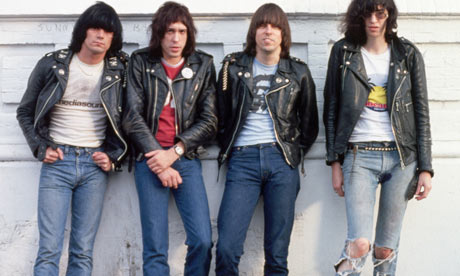 Over the span of eighteen months, The Ramones released three albums with Sire Studios. Their debut self-titled album opened with smash hit "Blitzkrieg Bop," which was named after the German World War Two bombing tactic. The song took a stand against Nazism.
Front man Joey Ramone wrote the second track called "Beat on the Brat." It was inspired by his experiences growing up in the lower class suburb of Birchwood Towers. "Now I Wanna Sniff Some Glue" also dealt with the concept of adolescent trauma through the usage of minimalistic lyrics and simple chord progressions.
Their next two albums Leave Home and Rocket to Russia were released the following year. Leave Home featured more sophisticated songs than their debut. The Ramones successfully found a balance between traditional rock and innovative pop.
Leave Home featured a cover of Henry Glover and Morris Levy's classic "California Sun" as well as their trademark track "Pinhead." The album also included "Carbona Not Glue", which was a follow-up track to their controversial "Now I Wanna Sniff Some Glue." The track was later removed from the album to avoid a potential lawsuit.
Rocket To Russia continued to show their promise. The album would later become their most financially successful album to date. Surf Rock and Bubblegum Pop influenced their single "Sheena Is A Punk Rocker" which was about, "a teenage girl [who] eschews surfing and her friends' dance parties to head to New York City and be a punk." Joey Ramone affirmed that it was the first teenage rebellion song ever made.
Their lighthearted lyrics were often considered to be parodies with a twist. The Ramones continued their Surf Rock influence with the track "Rockaway Beach" which became their highest charting Billboard single in their career.
The album also protested more serious issues such as lobotomies and drug abuse in "Teenage Lobotomy" and homosexuality and infant disease in "We're A Happy Family."
The Ramones perfected a sound that was, "Short and simple, frantic and full of hooks," said PBS. "Their hectic pace was as evident in their music as in their work schedule. Relentlessness and mayhem became synonymous with The Ramones and with punk itself."
After the release of their fourth studio album Road To Ruin, producer Phil Spector offered the Ramones an opportunity to costar in a musical about rock rebellion. Rock & Roll High School marked a vital shift in the direction of the Ramones. Phil Spector insisted that the band shifted to pop music. Their highly anticipated and expensively produced album End of the Century ruined their momentum punk rock aesthetic.
Their stripped-down sound influenced a long line of punk predecessors such as Patti Smith, The Talking Heads, The Clash, Nirvana, Metallica, and Green Day. However, the industry mocked them, the media rejected them, and radio stations refused to air their music. This in turn heightened the tension between the band mates.
"The Ramones toured steadily – playing something like 150 shows some years, spending hours and days going from city to city in a van, often finding fault with one another and erupting into fights," said Rolling Stone. "They would climb into their van and ride to a hotel or their next show in silence. Two of the members, Johnny and Joey, did not speak to each other for most of the band's 22-year history."
The love affair between Linda Danielle and Johnny Ramone ruined the band's relationship with Joey Ramone. When him and Danielle married, he became cynical and isolated, yet refused to leave the band.
Sire Records hired five different producers to work on their next six studio albums: Pleasant Dreams (1981), Subterranean Jungle (1983), Animal Boy (1986), Halfway to Sanity (1987) and Brain Drain (1989). It was an era of constant bickering, substance abuse, numerous lineup changes, and mental instability. The band was seen to have a curse.
"It sounded as if the Ramones were competing with their own shadows; they played faster, harder, as if trying to catch up with many of the hardcore bands that were running with their original template of short songs and high-speed beats," said Rolling Stone.
The 1985 release of "Bonzo Goes To Bitburg" was seen as the light amidst the darkness for the Ramones. Featured as a single on Animal Boy as "My Brin is Hanging Upside Down" the single was an emotionally charged commentary on the Reagan Administration and their involvement in Bitburg Germany. President Reagan set down wreaths beside 44 Nazi SS graves. The term "Bonzo goes to Bitburg" was coined by protesters after the incident. The track became a massive success on college campuses and catalyzed protests among concerned Americans.
The punk rock band from Forest Hills Queens proved that music was the proper response to the arc of history. Their curse was a reminder that protest, though well-intentioned, came with opposition. The Ramones will be remembered for their steadfast effort to promote equality through their definitive style, simple hooks and politically charged lyrics.
---