Greetings, internet. If you're reading this then that means that the 2017 Mission Creek Festival is officially underway! Tuesday, April 4th marked the first day of this 5 day festival and it started off great with some cool bands at The Mill.
As the clock struck 8:36 precisely, the quintet under the lead singer's name of Anthony Worden came out and started the show off. At first, the crowd was timid and shy. It wasn't until a couple of songs in that Worden encouraged a small crowd to gather around.
One of the first things I realized about this group was the prominent bass guitar. I love hearing cool bass riffs live, because you can feel the room vibrating, and it makes the experience a little bit more communal and exciting.
"Thanks for seeing us tonight and not Andrew Bird," Anthony said. "Fuck the one-percenters at the Andrew Bird show!" He joked.
Their music was really easy to vibe to, which I think the crowd greatly appreciated. A lot of their songs drifted into a purely instrumental verse, where you could tell that all the members of the band were getting lost in the music, vibing out with everyone there. The Mission Creek website described these guys as "canonical rock 'n' roll and contemporary indie rock" which I would definitely say is accurate. I would say it leans more on the "psych rock" with the way that guitar riffs and intense heart-racing drums would detach you from reality.
Overall, I think it was a good listen from a good local band. It will definitely be worth your time to check them out.
Up next was Oakland, California's very own Jay Som. When I read on the Mission Creek website that her genre is described as "woozy", I was like…huh? What does that even mean??? But in all honesty, I think "woozy" kind of translate into chill rock. The guitars and drums are upbeat, yet not overpowering. I think that lead singer Melina's voice is what makes this sound work so well for them — her voice is mellow and soothing, and paired with the instruments, woozy seems like an appropriate word to describe this genre.
I would say their first time playing in Iowa City was good and successful. More crowd members came to stand up next to the stage, clearly vibing with the band. The music crescendoed, with the drums, guitar, and bass all in unison, making for a really good listen.
To "Som" it up (#sorrynotsorry for that terrible pun), I would definitely say this was my favorite performance of the night and I will definitely be listening to this artist some more.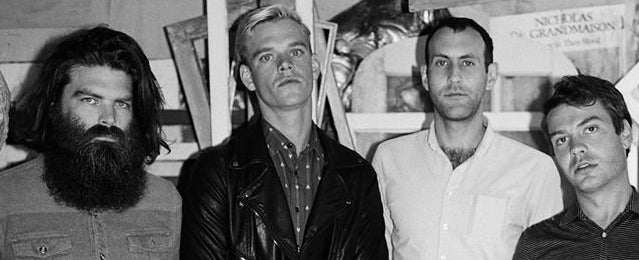 Last but certainly not least, Preoccupations took the stage. They started off with their song "Anxiety", and before I knew it the area surrounding the stage was packed. Lead singer Matt Flegel had a very distinctive voice — if I'm being completely honest, it reminded me of when I was a kid and would speak into a fan, which gave off that vibrating robot sound. I personally liked it, because feeling the vibrations felt as if I myself was singing the song.
By the second song, they were getting into more the post-punk genre as they incorporated more yelling/screaming. One song sounded like they were a punk Mumford & Sons. I thought their sound was really cool — they are definitely the future of punk. With the help of a keyboard and some computerized synth-y sounds, they were able to turn ordinary head-banging punk into borderline psychedelic-futuristic punk, which is kind of refreshing to hear in the punk industry, as sometimes purely punk music can seem monotonous.
One cool thing that I thought was really cool was seeing the opening acts in the crowd jamming out to Preoccupations just like the rest of us. It reminded me that even our favorite artists, no matter how big or small, still look up to other artists.
Their sound definitely isn't something that I would describe as "chill" — you would probably have difficulties studying or falling asleep to this. This music demands your attention, creeps up in your cerebellum and forces your body to move along to the beat. It was almost impossible to sit still during this set, and I think almost everybody in the room was at the very least nodding along.
As the night came to an end, the band went out with the longest outro of my concert-going life — it had to be at least 10 minutes of pure instrumentals. But once they hopped off stage and the house lights came up, I knew that I would be heading home and making Spotify playlists with some of their stuff in it. They were definitely worth checking out.
---