Welcome to RomCom Rants, a column where I analyze classic romantic comedies and tell you what I love and loathe about them. This week I am talking about How to Lose a Guy in Ten Days. If you haven't seen this movie, it's about a magazine writer named, Andie Anderson (Kate Hudson), and an advertisement executive, Benjamin Barry (Matthew McConaughey), who try to get ahead in their careers. To do that, Andie needs Ben to break up with her and Ben needs Andie to fall in love with him, and both need to be done in ten days.
Ben and Andie fall in love. Shocker, I know.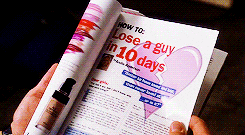 This movie is great, but first I do want to talk about the lack of diversity in the casting. I think there are three people in this film who are not white, and none of them are even close to being a major character. I mention this because in today's society, it's really easy to overlook things that do not immediately affect you. I think it is important to be aware that there are injustices out there, even if you are lucky enough not to face them.
One of those injustices is the lack of representation of minorities in this movie. The film takes place in New York City, the capital "melting pot". Statistically speaking, Andie and Ben would be surrounded by people of different races, nationalities, and sexual orientation, but it doesn't really appear that way in the movie. It was filmed over ten years ago, so that might have something to do with it, but it is still an important issue to address.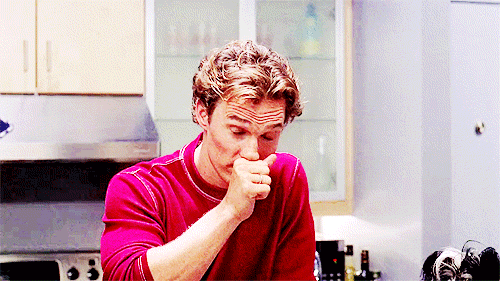 Now back to the film itself, Andie and Ben are both impressive characters. Andie, in my opinion, should be a role model to all of women-kind. She is a motivated and talented journalist who is trying to move up in the world. She works her butt off at, "one of the fastest growing women's magazines in the country", but is also able to juggle her exciting social life. She still isn't satisfied, though. She wants to write about politics and social change instead of shoes and fashion. She wants to write about something she has a real passion for.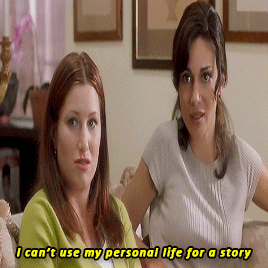 But Andie does have her faults. Her friend, Michelle, has a hard time holding onto a man. Andie cracks this up as her clingy and fanatic behavior, which is the motivation for writing the article. To let women, like Michelle, know what behavior is driving men away. Her heart is in the right place because by Andie writing this article, it saves Michelle from having another co-worker investigate her life.
But the thing is, Michelle isn't crazy. She falls in love, HARD, but that isn't a bad thing. Some people just can't handle that intensity, but the answer isn't for Michelle to change. The answer is for her to keep looking for someone who will appreciate her passion.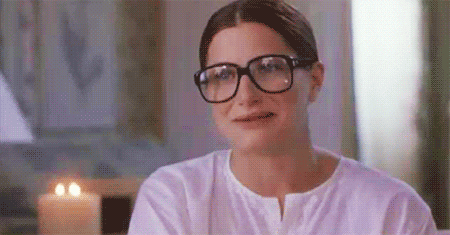 What Andie should have told Michelle was that if a guy isn't going to love every erratic part of her, then they aren't worth her time. Now, don't get me wrong, Andie isn't completely unsupportive. She does try to help Michelle and she is really sympathetic, but she does love-shame her a little bit.
Now Ben is just as impressive as Andie. He is one of the head honchos at an advertising firm who is also looking for something more. He is a low-key feminist. I say low-key tentatively, because he does have his moments where I can't help but shake my head. One of his more empowering moments was when he tried to land a huge diamond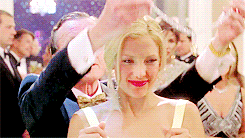 account. His pitch was, "a diamond is for everyone". That a woman doesn't need a man to buy her the diamond–she can get it herself. But about five minutes after his pitch, he makes the bet that he can make any woman fall in love with him. This totally wipes out his moment of progressiveness. He says he respects women, but if he did, he wouldn't make a woman's emotions a pawn in his journey of personal gain.
Now don't get me wrong, what Andie is doing isn't without its faults and it is obvious that she hurts Ben, but she is a journalist.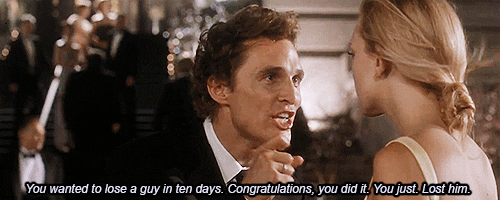 She is running an experiment with the motive of helping women. Testing how her behavior effects the relationship.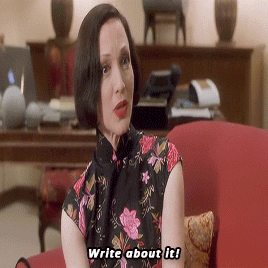 The only difference between herself and the other women in New York City is she was going to write about it, which is what all great writers do I might add. They write about what they know and their personal experiences
RAPID RANT
Ben on the other hand was betting that he could make a woman fall in love with him. Which is 1) cocky and 2) evil. What if he didn't like the girl back? And he just spent that last week and a half doing everything in his power to make her love him. Would he just break up with her? Leave her heartbroken and crying on her couch without a second thought.
I mean, if he got the diamond account, what did this measly woman mean to him? Right? Some might say, "It's only ten days, she will get over it," but I say bullshit. Love is not something you get over. Love isn't lust, it doesn't go away once the person is out of your life. It sticks with you like a piece of gum stuck to your shoe. The hurt may dull with time, but you will always remember that pain. And to consciously be aware that you may inflict that pain on someone, and continue, is just plain cruel.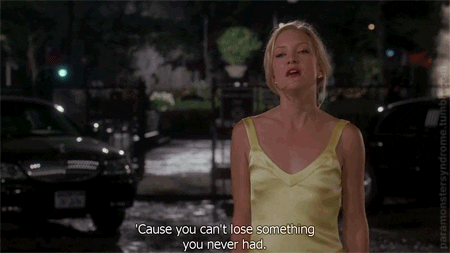 Now even though both of these characters are problematic in certain instances, there is no question that they are ridiculously attractive. So if you aren't interested in the plot, but are looking for a little eye candy (from either sex), I would suggest to watch the movie on mute. Because even though these characters have their emotional issues (I mean who doesn't), they don't transfer over to the looks department.
Now I just completely picked apart this movie, but that doesn't mean it's bad. I think it is important to be critical, especially of things you enjoy. But I owe you, and the movie, a few reasons why you should watch it.
The main characters have unquestionable chemistry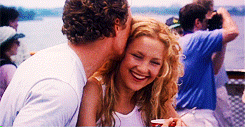 Now this is a big one, because sometimes they have nothing. And you might be thinking, "Well it's not that big of a deal if they don't have chemistry, they are only acting." Well I say WRONG. It is insanely important for the onscreen couple to have some sort of chemistry. If they don't, it just feels like your reliving a junior high relationship, full of awkward glances and sweaty palms.
It really is quite funny
Some of the things that Andie comes up with (and by Andie, I mean the writer/s of this movie because it isn't real) to get Ben to break up with her are HILARIOUS.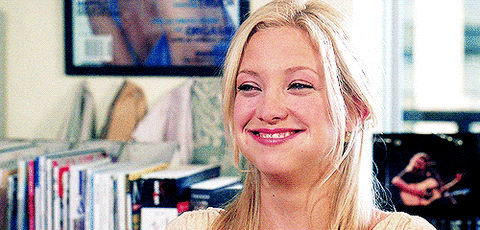 She really goes all out, which is another reason why womankind should literally bow down to her. Most people would be too embarrassed to crash poker night with the boys, but not Andie, she goes in head first and leaves no survivors.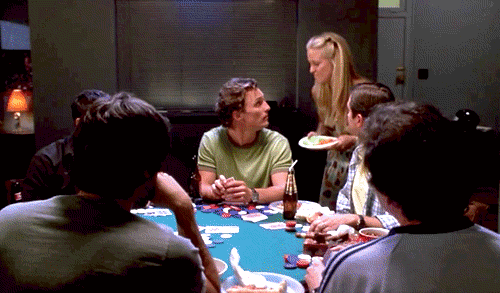 You'll want to be best friends with Andie and Ben's friends
Michelle is one of my favorite characters, maybe because we both share the hopeless romantic gene. But in all seriousness, she is truly a sweetheart, and she helps Andie with her shenanigans no questions asked. Ben's friends are also pretty cool; they offer a lot of the comic relief to the movie.
Andie's outfits are iconic
You get to see Matthew McConaughey shirtless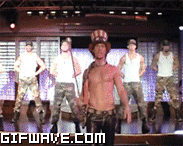 It has a really tasteful sex scene
I don't want to ruin any of it, so I'm just going to tell you to go watch it.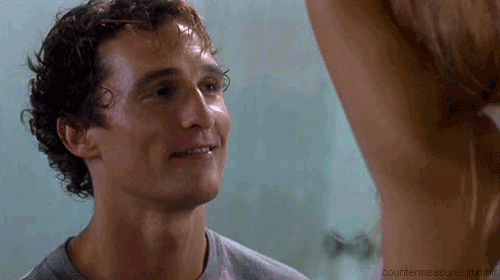 The music is really catchy.
They have a lot of classic 2000s hits that will bring you back. Just a few are,
"Let's Stay Together" by Al Green (a classic!)
"You're so Vain" by Carly Simon
"Feels Like Home" performed by Chantal Kreviazuk
"Follow You Down" by Gin Blossoms
But most of all, it is believable that these characters fell in love in less than two hours.
Honestly, it is impressive when anyone can do this without showing a change in time. Falling in love is hard, and falling in love in 10 days seems almost impossible. But this movie made me believe that it truly happened for Ben and Andie, and isn't that all we want when we watch a movie? To believe in something as great as that?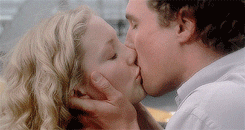 If you like what you read here today, you can find, "How to Lose a Guy in Ten Days" on Netflix and if you are craving more RomComs, check out my other article.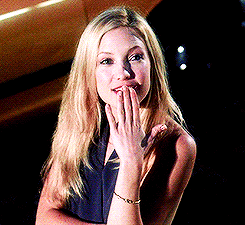 ---