Disclaimer: Article contains content that may be offensive or unsuitable for minors. 
Trigger warning: This article discusses issues of suicide and police brutality
This month's artist creates politically-conscious clothing that challenges anti-black attitudes, police brutality, and neurotypical assumptions. This Haitian-American designer has created a menswear label called Pyer Moss and worked with Erykah Badu to direct fashion shows that support the Black Lives Matter movement and issues of mental health.
Featured on Forbes' 2015 30 under 30 list, Kerby Jean-Raymond founded his menswear label in 2013 and gained fame in the past six months with recent artworks that reflect the current political climate.
I've never been very interested in fashion and clothing, because I think the industry encourages eurocentric beauty standards and caters to the interests of upper class white people, ignoring the issues of others.
However, this designer tests my ideas.
Last season, Kerby Jean-Raymond's Spring 2016 collection focused on police brutality with references to the death of Eric Garner and other black people who died at the hands of police. Sounds of gunshots accompanied the models as they solemnly walked down the runway, their clothes splattered with red paint. Some of the apparel shown included netting materials and tight collars, which Jean-Raymond meant to convey the immediate, physical, and dangerous limitations and "entrapments that hold the black body."
However, even before the models entered the runway, audience members watched a ten-minute video which showed the graphic and tragic footage of the deaths of Walter Scott, Eric Garner, and violence against the numerous teens brutalized by aggressive cops at a pool party in Texas this summer.
Jean-Raymond emphasized that if people were going to label him as a black designer, as so many other people of color are labeled in their own respective careers, he was going to control the narrative and present black issues in his own way.
Forcing audience members to contextualize the circumstances facing the black community does not allow for a separation between trendy clothes and blackness in America. Cultural appropriation of black hair styles, black vernacular English, and black music has encouraged and propagated such a separation. This artist decolonizes our minds by making wearable political assertions that do not leave room for this ignorance.
Recently, a Black Lives Matter activist named MarShan McCarrel II took his life at age 23. Before he died, he made a Facebook post which said, "My demons won today. I'm sorry." Jean-Raymond incorporated this tragedy into his Fall 2016 collection, along with the larger issues of mental health, specifically, depression.
With clothing that includes lists that resemble possible side effects from drugs, to buttons which portrayed vices people fall back on to alleviate depression, audience members were reminded of the intent of this show with each model that walked the runway.
Collaborating with Erykah Badu on this show allowed Jean-Raymond to manipulate music in ways that helped affirm black people living with mental illnesses and black art, too. Using a genre named by Badu herself called tropera (a mix of trap music and opera), the show combined music from classic black spirituals and current popular music, promoting black music and art.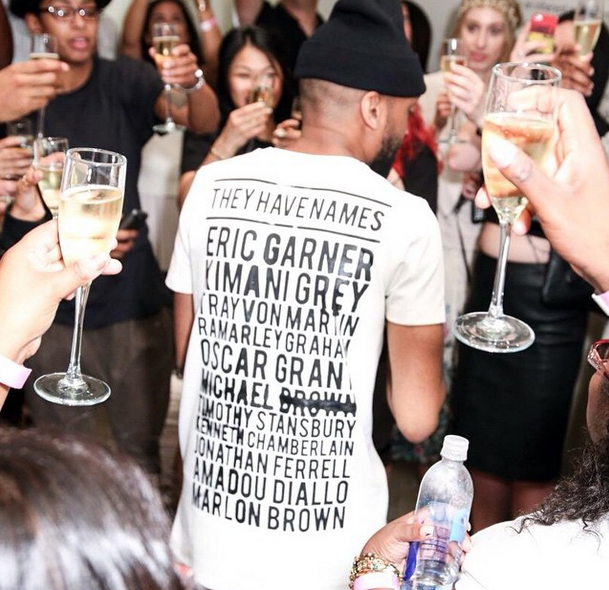 Kerby Jean-Raymond presents narratives about black people, untainted by the dominant white perspectives that minimalize and erase issues affecting communities of color. He uses his platform in an industry which largely ignores political issues and mental health. Jean-Raymond decolonizes our minds through his political, influential clothing and the composition of his shows.
I've never followed news from the fashion world before, but I'm eager to see the politically conscious art that Kerby Jean-Raymond creates in the future.
Follow Kerby Jean-Raymond on Instagram and check out his label website!
The idea of "decolonizing our minds" comes from writings of the author, feminist and social activist bell hooks. She encourages us to critically examine every thought and action, free ourselves from the coercive ideologies, and overcome the impacts of structural oppression. This bimonthly column will analyze spaces and times where and when we can pause and make strides in this arduous process, and also highlight figures who are helping us to decolonize ourselves.
---