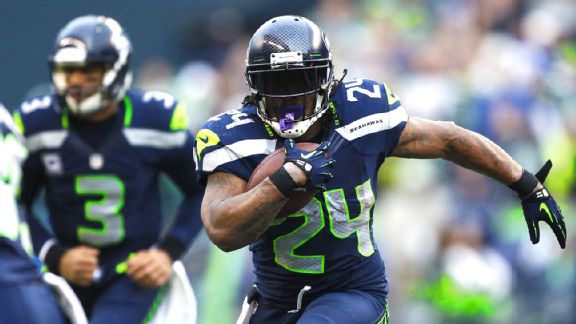 Dearest Marshawn,
It seems we are in the same situation as we were a year ago, aren't we my old friend? Last year after winning the Super Bowl XLVIII, you pondered the same question, "Is this the right time for me to retire?" You could have retired on top and no one would have really blamed you. I personally would have been upset, but at least you would have gone out like a champ with your head held high, a Super Bowl ring, and your famous hold my d*** grab we have all come to respect you for. But back-to-back Super Bowl wins just weren't in the cards. You guys were so close, like really close (like one or two Marshawn runs away from a Super Bowl title, you know, just like a few yards that probably should have been given to you, but hey I'm not the coach). And after this great season your team had, and coming just short of winning another ring, I think you should come back and give everyone one more entertaining year.
Between your "Beast Mode" runs, and your colorful media personality, you single-handedly make the game more fun to watch. And as a Beast Mode fan (and consequently a Seahawks fan), I implore you to think about this carefully. If you do, (and I know you Cal grads are deep thinkers) I know you will make the right choice. Everyone knows the Hawks could certainly use you. After all, you have been a top-five running back in terms of rushing yards in the last two out of three seasons. This year you had just as many rushing touchdowns as DeMarco Murray and on around a hundred fewer attempts. Actually, you have been top five in rushing touchdowns for the last four seasons. This means a lot considering the fact that Seattle's offense rarely cracks the top ten in total offense. Also looking at the fact that Seattle boasted the number one rushing offense this year, it is easy to see who has been the main contributor. So as the stats have shown, you have progressively gotten better every year since coming to the Pacific Northwest.
Now I understand that all these rules in the NFL and demands of the media can get annoying. It's tough for
prominent figures like you and me to give the media everything they want, always wanting quotes, interviews, etc. It's just a hassle and I can see why you're tired of it. But there is a simple solution, just keep giving the short one-word answers. Though it may seem to give the media fits, it is actually publicity gold. No matter what you answer, the media will cover it, and everyone says there is no such thing as bad press. As far as the NFL fines go, I agree with you that Goodell is……strict (to put it nicely). All these fines can take a lot out of a person (mentally and monetarily), but you just keep doing you man. If you need help, I have a jar full of spare change, Washingtons, and even a few Lincolns to help you out. So keep being the Skittles-eating, gold cleat-wearing, crotch-grabbing, media-loving man that you are. My junior high school counselor always told me to just be myself and people will respect/like me. It did not work for me, but hey I'm sure you will be just fine.
So I hope you listen to what I have to say Marshawn. It seems like just yesterday you and I were playing backyard football in Oakland, but times have changed. Life is not as simple as it once was. This is a big decision for you, and you need to do what feels right. But just think about your teammates, the city of Seattle, and all the Seahawks or Beast Mode fans around the world. If you do that, I trust you will make the right decision.
Yours Always,
Grayson Schmidt
---