Starting up a new season is never easy for a team that just won the Stanley Cup in the National Hockey League.  It is no secret that winning the coveted trophy back to back years is a challenge.  In fact, no team has done so since the Detroit Red Wings did it in the 1997 and 1998 seasons.  For the Blackhawks, they know the challenges they face with the new season, as many of those on the 2013 championship team were also on the 2010 team.  Led by star players such as Jonathan Toews, Patrick Kane, Duncan Keith, and Marian Hossa, the Blackhawks understand the tough task that lies ahead as teams across the league look to take down the defending champions.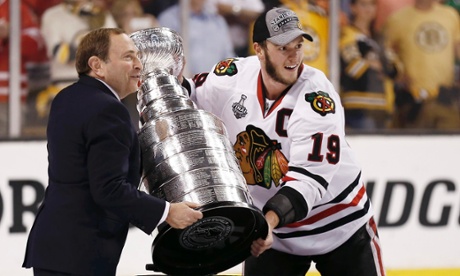 So when the 2013-2014 NHL season rolled around and the celebrations of winning the cup were over, it was time to get back to business for the Blackhawks.  In the first month of the schedule, the Blackhawks 7 of the first 9 games came against Eastern conference teams.  With a record of 6-1-2, the Blackhawks have handled these Eastern teams well, gathering at least a point in each meeting with an opponent from the east and holding a record of 6-0-1 against that side.  Their only regulation loss of the season came against division rival St.Louis, who the Blackhawks also lost to in a shootout just a little more than a week later.  There has been a lot of discussion in the past couple years, as the Western Conference has seemed to out match that of the Eastern for quite some time.  There are some factors to this, such as speed, skill, and also how far of travel that compares between the two conferences which all have an effect on the play between conferences.
Some may say that the Blackhawk's current record looks better because of the Eastern Conference teams they have played to this point.  However, playing these Eastern Conference teams is helping Chicago, as they are getting a feel for things at the beginning of the year, and becoming better prepared before taking on division and conference opponents, whom they will play throughout the playoffs until the final-if they get there.  It is clear that the Western Conference has just outpowered the east the past couple years, and the Blackhawks have greatly contributed to that trend.  If the team can continue to stay victorious over the other conference, while maintaining their own in the west, look for another deep run from the Blackhawks.
---