By Josh Roth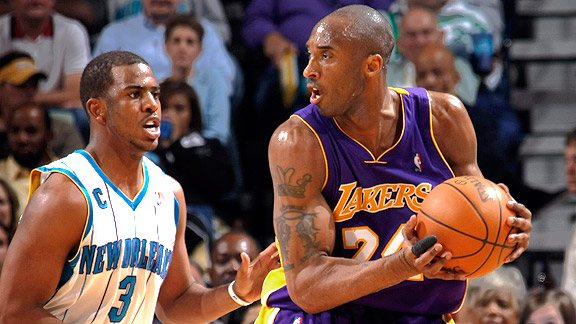 Coming into the 2010-2011 season there was a lot of question marks surrounding the New Orleans Hornets.
The first big question mark was what to do with the fantastic point guard duo of Chris Paul and Darren Collison.  Their answer was to trade him and replace him with Trevor Ariza.
At the time this did not make a lot of sense to me.  Darren Collison seemed to be and still looks like a high rising quality point guard that a lot of the teams in the NBA cherish.  I thought they could have received a bigger haul for a player of his caliber.  Then you also have the question marks surrounding the health of Chris Paul who was coming of a major knee injury that forced him to miss most of last year.  And finally was the team good enough to even make the playoffs.
It seemed as if there was not enough fire power to make a legitimate run, especially with teams like Memphis, Houston, Phoenix, Utah and even Golden State fighting for essentially two spots in the Western Conference.
With all the question marks, New Orleans was able to get off to an incredibly hot start and seemed to be matching San Antonio game for game for the top spot for the first month.
However, things started to take a bit of a dive, not too drastic, but enough to have them slipping quite a bit in the standings. And yet again there were concerns of whether they could hold on to a playoff spot with the roster that relied heavily on Chris Paul.  New Orleans eventually felt the same way and shook up the roster adding Jarrett Jack in a trade for Jerryd Bayless, which was also an odd trade to me.
Then they made another move right before the deadline adding Carl Landry for what seemed like yet another solid piece in Marcus Thorton.  And the trade didn't look so hot when Thorton was constantly putting up twenty points and lighting it up from downtown.  Yet another blow came when David West, arguably the top post player for the Hornets went down in the final weeks of the season to an ACL injury. Still the Hornets managed to make it into the post season with a 46-36 mark to obtain the seventh seed and playing the defending champion Los Angeles Lakers.
So this looked like it would pretty much be over in four or five games right?
Well I guess the Hornets did not get the memo.
So far they have matched the Lakers punch for punch and the thanks are in large part to Chris Paul and the front office.  First, a lot of credit has to do with the fantastic hiring of Monty Williams. Monty Williams is a great up and coming coach who was working under another fine coach in Nate McMillan at Portland before landing the Hornets job. He brought over a good defensive mentality that has seemed to frustrate the Lakers in this first round.  Also one cannot forget the moves that the front office made.  The moves seemed very questionable originally, but Carl Landry was a crucial pick, especially with the loss of David West.  Landry has also worked well as a compliment to Chris Paul in the pick and roll game.  The Jarrett Jack trade looks a lot better as well.  Jack brings solid defensive with the ability to relieve Chris Paul and also play alongside him, much better than Bayless.  It also doesn't hurt that he hit a big game winner versus the Lakers on Sunday.
Credit should also be given to the great play off the bench and especially from the post players on the Hornets. Okafor has done a very good job defensively at containing Gasol and a lot of praise should be given to Aaron Gray. Gray has been vital in the Hornets efforts to dethrone the Lakers, contributing on the glass as well as making some pivotal baskets.
However, the man we need to praise the most is Chris Paul.  What a tremendous job he has done throughout the season and now into the playoffs. It's easy to forget how good of player he is when you have point guards like Derrick Rose, Deron Williams, and Rajon Rondo (just to name a few).  Also you have the major reconstruction in New York and the big three in Miami.
All of these reasons are why one may forget about Chris Paul, but he should not be overlooked anymore.
He is a legitimate MVP candidate year in and year out when healthy, and may be the best pure point guard in the game today.  He has the ability to pick a part defenses and find the open guy or take it himself.  He is also a very good shooter and a terrific defender.  His stats prove this as well.  He is normally in the top five or ten in every key statistical category for point guards including number one in steals.
He has been even better in the postseason, putting up incredible statistical numbers like, shooting well over 57 percent from the floor including 50 percent from beyond the arc and putting up nearly 26 points 12 assists and 7 rebounds along with 2 steals per game.  However the thing that is most impressive about him can't be measured statistically and that is his basketball IQ. Paul may be one of the most, if not the most intelligent basketball players on the court.
He doesn't have to score to be effective; in fact he often looks to get other involved first before taking it himself.  He has constantly praised other teammates and has excelled with limited talent.  Just imagine what Chris Paul numbers and play would look like with maybe even one more star.
At the end of the day the Lakers may wind up taking the series, but not without a long and grueling fight by the Hornets.  They have been physical, tough minded and determined to take down the Lakers. Chris Paul went as far to say he would "hit his own mother" to win.  Well I am sure he wouldn't, but we get the point.  Chris Paul and the Hornets have given us a sensational series so far and Paul has asserted himself as not only one of the better point guards in the league, but one of the better players and leaders.
---