This week, 64 years ago, on February 20, 1959, Jimi Hendrix took to the stage for the very first time. Now a household name and undeniable legend, in '59 Hendrix was little more than a background guitarist, playing with an unnamed band in a synagogue basement.
His first show certainly sounds like an idol's iconic origin story, but it didn't look that way to Hendrix at the time. Mid-act, the band let Hendrix go for "too much showing off." In many ways, this failed gig foretold the continuously rocky start to his live music career.
Hendrix identified music as his path early on, using it as a sanctuary from his stormy home life and a place of revelation for his creative spirit. At 16, Hendrix's father bought him his first guitar, a right-handed acoustic that Hendrix taught himself to play upside down. His longstanding love for blues and rock quickly grew into a desire to create his own sound. Hendrix dropped out of high school to pursue music full time. But despite his passion and talent, Hendrix struggled to break into the music scene. He worked odd jobs to support himself while searching for opportunities.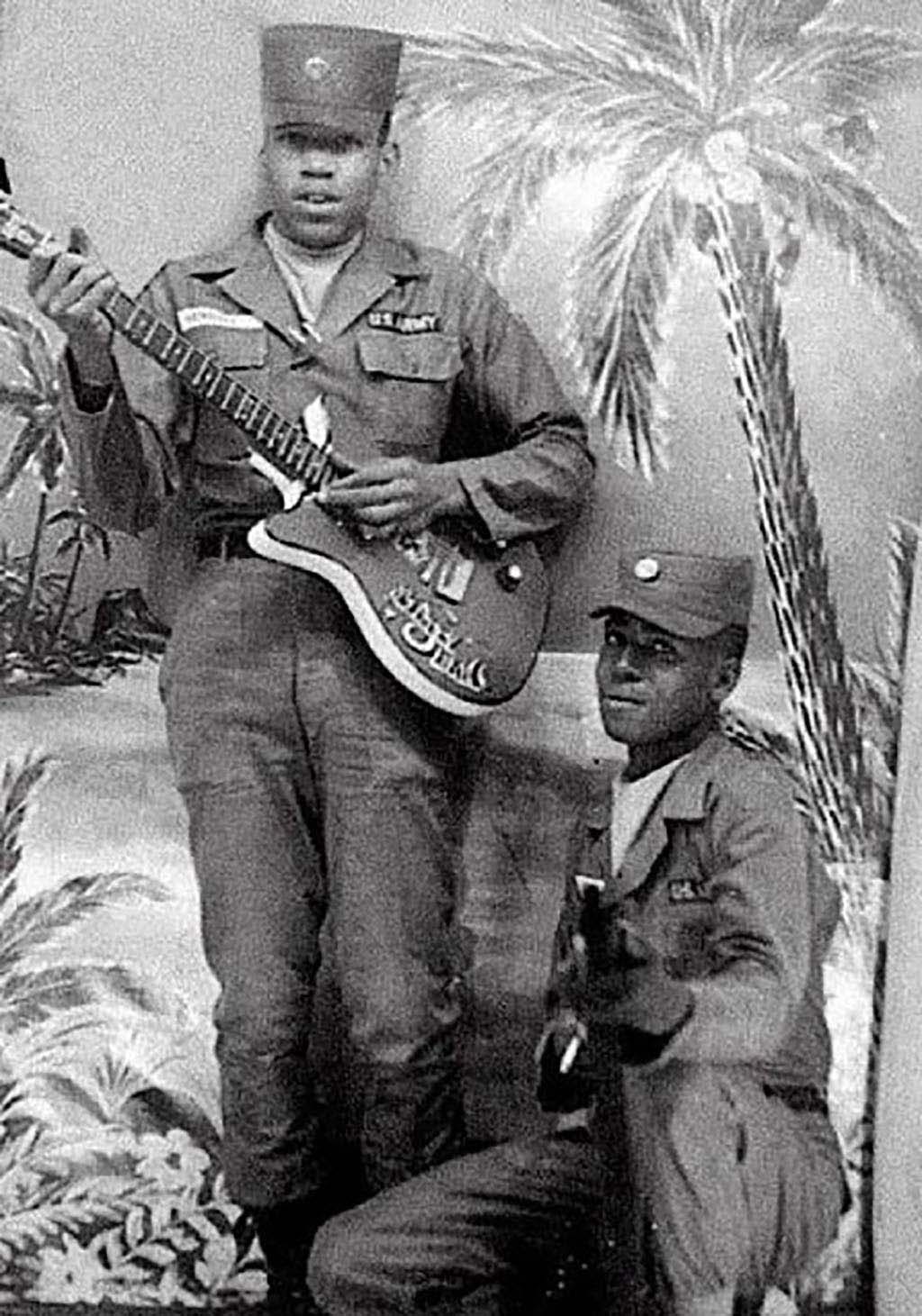 In 1961, Hendrix ended up enlisting in the U.S. army, training as a paratrooper at Ford Ord in California. While in training, Hendrix put together a band called The King Casuals, keeping his musicianship in practice even during bootcamp. But The King Casuals only lasted a year; the army honorably discharged Hendrix in '62 after an injury. After leaving the army, Hendrix was still only booking as a session musician, playing backup for performers such as Little Richard, B.B. King, and Sam Cooke under the name Jimmy James. But in 1966, Hendrix signed a management contract with Animals bassist Chas Chandler, who took him to London. There, Hendrix was introduced to bassist Noel Redding and drummer Mitch Mitchell, forming the Jimi Hendrix Experience band.
And that's when Jimi takes off.
Hendrix becomes a guitar legend – earning admiration from fellow icons such as the Beatles, the Rolling Stones, and Eric Clapton. He released three albums in two years, each soaring to the top of the charts. He played the most iconic festivals of the decade – both Monterey Pop and Woodstock – and led the psychedelic rock wave. Crowds screamed for his experimental sound and awe-inspiring tricks – including playing his guitar with his mouth and behind his head. And, famously, he sets his guitar on fire! Hendrix was on top of the world, leaving his rainy hometown of Seattle and synagogue basements behind.
But as fast as Hendrix was to ignite, his flame was put out even faster. Hendrix passed away in September of 1970 at the age of 27. Gone too soon can't even begin to describe the loss his death represents. The world lost an incomparable artistic talent, but Hendrix lost the chance to grow old, to embark on new adventures, to explore all the highs and lows life can give past the age of 30. Jimi Hendrix is an icon of rock and roll, the face of an entire decade of music, but it can never be forgotten just how much of his true legacy, his own breath and joy, was stolen.
Looking back on his life and career, it's difficult to say how instrumental Hendrix's first performance was in making him the musician he became. Perhaps it put a chip on his shoulder, a confirmation that he had something special, even if the synagogue basement crowd couldn't see it. Perhaps the experience haunted Hendrix in his early years, no matter how much he tried to move on.
Hendrix, when reflecting on being fired from his first gig years later, simply remarked: "I was trying to play from the soul, and the other band members thought I was showing off." So maybe that was all it was, Hendrix bearing his soul to the wrong crowd. Now, it's easy to see that his soul belonged on only one stage – the eternal one.
---