Taken together, the list of collaborators and associated musicians of Giorgos Xylouris and Jim White reads like a globetrotting tour de force through indie and alt-rock's most prolific figures over forty.
2017 had the pair playing opening shows for PJ Harvey, Lambchop, and Ty Segall, touring the United States, Europe, and home country Australia, and appearing at the exploratory goldmines of Big Ears and Supersonic Festival. And it was a slow year, comparatively speaking.
But this is all nothing new for those that have followed Xylouris and his prodigious chants from his native Greece, or White from his moves across Australia, Great Britain, and Brooklyn; relentless performance has been an irrevocable part of each of their respective musical paths. Both before and after their chance meeting in Melbourne in 1990, the two continued to absorb the influences characterizing their musical projects.
White's instrumental trio Dirty Three reinforced the arrhythmic chops that Harvey called its own language, while the beatific charm of his native Greece bred the fulfillment of Xylouris and his family bands. In 2013, fortunate circumstance yielded recordings in New York that turned mystical potential into tangible reality, thankfully.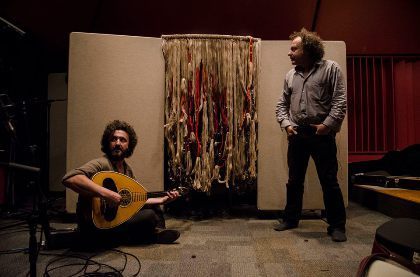 Comparisons between the Cretan-Australian tandem and the above musicians seem warranted and natural, generally; they share an inclination to reside slightly left of center, and likewise pack emotional weight in songs flush with competing layers of detail and those introverted by minimalism.
But after one listen to the pluckings of Xylouris' laouto alongside White's perfectly schemed bashes of percussion, these surroundings begin to disintegrate. The music is less timely than it is traditional, and more contemplative than contextual; the congruity of the Greek's native Cretan tongue and his delicate instrumentals is a poetic marvel. Fans of Mission Creek alums Glenn Jones (2016) and Glenn Kotche (2015) will feel right at home here.
Mother, released in January as their third album overall and second on Bella Union, marks the latest endeavor into the depths of their experimental niche. By turns convivial and brooding, the new record lands firmly in similar territory as its predecessors but with added touches of refinement, as displayed in their live set.
The musings of the lute player reach further than before; opener "In Medias Res" churns without clear structure, instead harnessing a whirlwind of energy, helped along by flourishes of viola and violin, while "Only Love" is a psychedelic eastern-rocker with circling strings that call to mind the Malian outfit Tinariwen.
Spare bookend "Lullaby" exposes the vulnerability of Xylouris' baritone, all but tying together a work as singular in its end product as in its approach. Four and a half years in the making, lovers of far-reaching folk and adventurous avant garde can find satisfaction equally in the group's current form and in its progression from improvisational to polished.
Hailed by The Guardian as "one of the most intriguing fusion duos you'll come across", Xylouris White graces the stage of The Mill at 10:00 PM on Wednesday, April 4th, and is sure to entrance audiences with its typical brand of subdued melodrama. Tucked unsuspectingly in the early stages of the festival, the show is surely one not to be missed.
Check out the rest of the Mission Creek Lineup here! 
---